ConsimWorld News
Sep 22
Silent War and IJN Back in Stock -
Back in stock from Compass Games. Silent War and Imperial Japanese Navy are back in stock and available for purchase at preorder price for a limited time, so order today!
Silent War — $65 (save $10)
IJN (Imperial Japanese Navy) — $24 Preorder (save $6)
Michael Peck @ Foreign Policy Magazine
[video]
[video]
Sep 21
Huzzah! -
New from One Small Step Games. Huzzah! Four Battles of the American Civil War, Vol. 1 is Richard Dengel's (Rebel Yell!) new entry into the American Civil War pantheon of games with his new Huzzah! grand-tactical system. This volume contains four battles from the ACW: Belmont, Iuka, Newbern and Stephenson's Depot. 
The system features encounters little known yet strategically fraught. These are fights that, had they concluded differently, might well have transformed a campaign, a reputation, or both. So, while the battles in were little more than a scrimmage when compared to, say, Gettysburg or Stones River, they were not insignificant, bearing weight well beyond what mere numbers suggest. This game is the first installment of what will become a series of games using the system. The next installment in the series will be a second quadri-game focusing entirely on the Wilderness Campaign. These four battles will also be combinable into a large campaign game. Price: $59.95.
New from One Small Step Games. The first issue of Ares Magazine weighs in at 84 pages and features nine original science fiction and fantasy stories, an interview with game designer and author Bruce Cordell, and an article on singularity written by best-selling science fiction author William H. Keith (who also writes under the pseudonyms Ian Douglas and H.J. Ryker). Also included with the magazine is Bill Banks' War of the Worlds, a two-player game of conquest and survival that pits the military forces of Queen Victoria against Martian forces under the command of the evil Martian overlord. The game includes a rule book, die-cut playing pieces, and a large map.
The first issue is available for purchase at select comic books stores and online for $30. Subscribers can choose from a variety of online ordering options, including a six-issue subscription for $120 and a new three-issue starter plan for $78. The site also provides options to purchase the game and magazine separately, and a digital version of the magazine is available on GooglePlay for $6.
Atlantic Wall: D-Day to Falaise -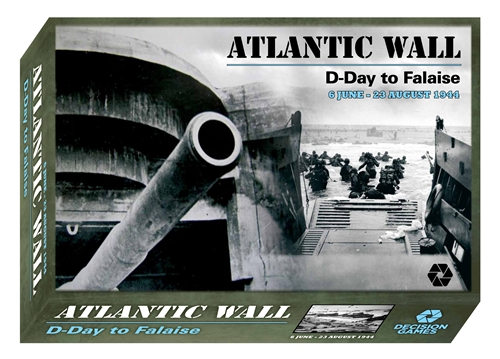 New from Decision Games. Atlantic Wall: D-Day to Falaise is a grand-tactical simulation of that campaign. The counters represent almost every formation that participated at the company and battalion level. Infantry, armor, anti-tank, reconnaissance, engineer, assault gun, howitzer, rocket, parachute, ranger, commando, glider and headquarter units are fully represented. Features include Widerstandnesten (resistance nests), Cherbourg's fortifications and the all-important Bocage. The map portrays all primary and secondary roads, trails and other types of terrain, along with the villages, towns and cities that formed the bastions of German defense.
There are three introductory one-map scenarios depicting critical periods in the campaign that use an abbreviated set of rules while still maintaining the historical accuracy of the campaign game as a whole. In addition, there are three larger multi-map scenarios that allow players to either play a short period within the overall campaign or play the campaign from various starting points. The 6 June assault is covered in two modules, the Airborne Assault Module and the Amphibious Assault module, which allow players to recreate both the airborne and initial amphibious assault stage of the campaign. The Amphibious Assault Module is played on a special Beach Display that shows each sub-area of the invasion beaches with units depicted at the company level. It can be played as a solitaire scenario. The campaign game can be played from 6 June to 22 August, with a total of 234 game turns.
This is the third installment of the Grand Operational Simulation Series (GOSS), the first two being: Wacht am Rhein and Hurtgen: Hells Forest. All three games share a common rules set that's been extensively updated and revised to simplify game functions while maintaining the design of the earlier games. Game contents include:7 22x34" map sheets, 4,480 die-cut counters, ONE GOSS Rules booklet, ONE Exclusive Rules booklet, Assorted Player Aid Charts & Displays, Two 10-sided dice, and Storage bags. Price: $240.
Now available for funding @ kickstarter by Worthington Publishing. Sea Kings is a game of Viking plunder and exploration by Lew Pulsipher, designer of the popular, award-winning game, Britannia. You are one of the Viking leaders seeking fortune in the unknown with your long boat and crew. Do you have what it takes to be a great Sea King by making new discoveries, settling hostile lands, crafty trading, and raiding with the fierceness of a Norseman? If so, seek the throne and make it yours. Sea Kings delivers a fast-playing game for two to six players who compete against the rest of Europe and each other. [visit Kickstarter page]
Now available for preorder from Clash of Arms. Legion of Honor is an innovative card game that recreates the personal drama of the Napoleonic Wars. Using a quick playing, card-driven game system, each player assumes the role of a French soldier — or grognard — starting out as a young sergeant or sous-lieutenant trying to make it in life starting in 1792. Fortunately for the enterprising grognard, he can look forward to over twenty years of continuous war provided courtesy of the Directory and Napoleon! Preorder Price: $65.
Sep 16
New from Legion Wargames. Dien Bien Phu: The Final Gamble is a two-player game about the decisive battle of Dien Bien Phu in 1954 that not only ended the French Indochina war, but also had political repercussions far outside the region itself. One player represents France and her colonial troops. The other player represents the armed force of Viet Minh, the communist/nationalist independence movement of Vietnam. This is a cage fight. There are no victory points, there is no marginal victory and there is no draw.  Viet Minh wins by forcing the French troops to surrender. France wins by not surrendering. Preorder Price: $45 (save $17 but order today this offer expires on September 30th!).
Desert Moon, a new book by Mark Walker
It's 2341, and Earth (Terra) has expanded into a multi-planet confederation policed by the strong arm of the Terran Defense Force (TDF). Using potent biped weapon platforms called CATs, tanks, and power-armored troops, the TDF wages Terra's wars. But machines are not enough, Terra also breeds soldiers to pilot her CATs. Faster, smarter, and bigger than natural born humans, the Purebreds are the ultimate warriors. Or are they? Get the kindle edition for only $4.99.
Sep 09
[video]
New from Jim Werbaneth. Line of Departure #75 is a theme issue, covering Americans at War.  The articles inside cover:
Rebel Raiders on the High Seas (GMT) — Review

Squad Leader Series (Avalon Hill) — Analysis

Hamburger Hill and Operation Solace (Command magazine) — Analysis

Red Star/White Star (SPI) — Scenarios

The Vicksburg Campaign (TPS) — Preview