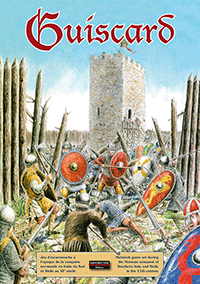 Do you remember the medieval skirmish game Cry Havoc published in the 80's? A winning combination of fun, quick gameplay with gorgeous hand-drawn characters and maps. This vintage game system has been resurrected by Historic'One, the publisher of the various game materials available on the Cry Havoc Fan website. The intent was to recreate the immersive touch of the original system while updating and upgrading the missile and combat rules which generated a lot of discussion back in the day. We wanted to pay homage to the game unique traits and hand drew all 928 character stances, 6 maps and numerous overlays, a 2-year project! 
GUISCARD is set in the 11th Century and depicts the epic conquest of Southern Italy and Sicily by Norman mercenaries led by Robert de Hauteville, nicknamed Guiscard ("the cunning"). The game features the various factions of the time including Byzantines, Lombards, Arabs, Germans, Slavs and of course Normans.
GUISCARD is now available and can be bought in the Shoppe of Cry Havoc Fan or through select resellers in France, the UK and the US.